Skip to Main Content
It looks like you're using Internet Explorer 11 or older. This website works best with modern browsers such as the latest versions of Chrome, Firefox, Safari, and Edge. If you continue with this browser, you may see unexpected results.
Into the Wild
DVD Cover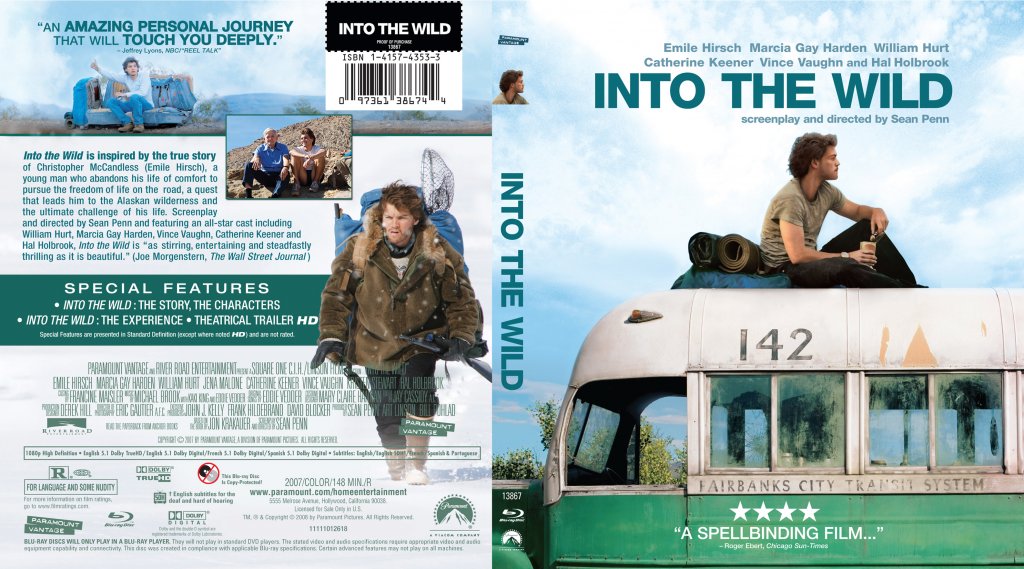 Your study of Into the Wild is a film study. However, the book is available in the library if you'd like to read it.
Library Resources
Into the Wild

by

ISBN: 0385486804

Publication Date: 1997-01-20

In April 1992 a young man from a well-to-do family hitchhiked to Alaska and walked alone into the wilderness north of Mt. McKinley. His name was Christopher Johnson McCandless. He had given $25,000 in savings to charity, abandoned his car and most of his possessions, burned all the cash in his wallet, and invented a new life for himself. Four months later, his decomposed body was found by a moose hunter. How McCandless came to die is the unforgettable story of Into the Wild.

Immediately after graduating from college in 1991, McCandless had roamed through the West and Southwest on a vision quest like those made by his heroes Jack London and John Muir. In the Mojave Desert he abandoned his car, stripped it of its license plates, and burned all of his cash. He would give himself a new name, Alexander Supertramp, and , unencumbered by money and belongings, he would be free to wallow in the raw, unfiltered experiences that nature presented. Craving a blank spot on the map, McCandless simply threw the maps away. Leaving behind his desperate parents and sister, he vanished into the wild. Jon Krakauer constructs a clarifying prism through which he reassembles the disquieting facts of McCandless's short life. Admitting an interest that borders on obsession, he searches for the clues to the dries and desires that propelled McCandless. Digging deeply, he takes an inherently compelling mystery and unravels the larger riddles it holds: the profound pull of the American wilderness on our imagination; the allure of high-risk activities to young men of a certain cast of mind; the complex, charged bond between fathers and sons.

When McCandless's innocent mistakes turn out to be irreversible and fatal, he becomes the stuff of tabloid headlines and is dismissed for his naive pretensions, and hubris. He is said to have had a death wish but wanting to die is a very different thing from being compelled to look over the edge. Krakauer brings McCandless's uncompromising pilgrimage out of the shadows, and the peril, adversity , and renunciation sought by this enigmatic young man are illuminated with a rare understanding--and not an ounce of sentimentality. Mesmerizing, heartbreaking, Into the Wild is a tour de force. The power and luminosity of Jon Krakauer's stoytelling blaze through every page.
Maps of McCandless's journey
Movie
Into the Wild (2007)
Director: Sean Penn
Synopsis
A young man leaves his middle class existence in pursuit of freedom from relationships and obligation. Giving up his home, family, all possessions but the few he carried on his back, and donating all his savings to charity, Christopher McCandless (Emile Hirsch) embarks on a journey throughout America. His eventual aim is to travel into Alaska, into the wild, to spend time with nature, with 'real' existence, away from the trappings of the modern world.

In the 20 months leading up to his Great Alaskan Adventure, his travels lead him on a path of self-discovery, to examine and appreciate the world around him and to reflect on and heal from his troubled childhood and parents' sordid and abusive relationship.

When he reaches Alaska, he finds he is insufficiently prepared and despite making it through the winter he prepares to return home in spring, only to find the frozen stream he crossed in the snow has become an impassable, raging torrent, and that he is trapped. With no means of sustaining himself adequately, he eventually starves to death in his so-sought-after isolation.

Throughout his epic journey the people he meets both influence and are influenced by the person he is and bring him to the final and tragic realization that "Happiness is only real when shared".
(IMDB, 2017)
Resources
Viewing Guide: film study questions

This resource encourages you to think critically about the film's portrayal of Christopher McCandless's story. It contains some poignant questions to consider.
Key Quotes

These quotes will be useful to draw on as evidence for your responses to this film as a text.

Online version of the text

This is an online version of the text for reference purposes
Book study notes

This document is helpful to give you an initial understanding of the story and the book as a basis for the film. You will need a copy of the book to complete these activities.
Versions & Interpretations
Into the Wild: Movie Trailer
This video is runs for 3 minutes. If you are accessing this from school, it is not visible because it is a Youtube clip.
The making of 'Into the Wild'
This documentary explains the decision-making behind the film, and gives the director and cast members' views on the process. This video runs for 40 minutes. If you are accessing this from school, it is not visible because it is a Youtube clip.
Interview with Emile Hirsch
This interview with Emile Hirsch, who plays protagonist Christopher McCandless, gives an insight into the film production. This runs for 4 minutes. If you are accessing this from school, it is not visible because it is a Youtube clip.
Interview with Kristen Stewart
This is an interview with Kristen Stewart who plays Tracy Tatro, a 16-year-old girl who develops a romantic interest in Christopher when they meet on his travels. This runs for 4 minutes. If you are accessing this from school, it is not visible because it is a Youtube clip.
Chicago Tribune Film Review
This is a film review of Into the Wild and runs for 2 minutes. If you are accessing this from school, it is not visible because it is a Youtube clip.
Teacher created resources
Themes - Teacher Panel Video
Symbols - Teacher Panel Video
Images
Key Articles
Death of an Innocent: How Christopher McCandless lost his way in the wilds

This is the article that inspired the book and the film. This article was written by Jon Krakauer, who later wrote the book about Christopher McCandless's intrepid adventure. Krakauer is a journalist for Outside Magazine and this article generated more readership than the magazine had ever had before, inspiring him to go on and write the book. The book focuses on Krakauer's journey to investigate the life and death of Christopher McCandless. The film does not feature Krakauer and his investigation, but opts to just present Christopher McCandless's part of the story.